Now that summer is winding down to an end we've decided to commemorate our favorite season by presenting the world's best water slides in the world. Let's face it, water slides sum up summer like no other: sun, fun, happy kids and of course water fun! Below is a list 10 of our favorite water slides in the world:
1. Wildebeest, Indiana: The Wildebeest is the longest water slide in the world lasting a world-breaking record of 2-and-a-half minutes.
2. Tantrum Alley, Dubai: This aesthetically beautifully designed water slide consists of two large downhill water slides and three funnels.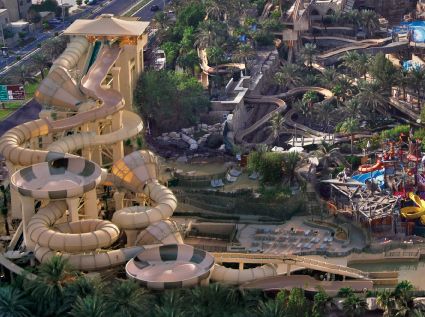 3. Atlantis, Paradise Island: The 60-foot Leap of Faith could not have missed our list. The water slide comes out of the iconic Mayan temple that then takes guests through an underwater tube in a lagoon full of sharks.
4. Città del Mare, Italy: Probably one of the most beautiful slides on our list. This up and down water slide adventure culminates with a dip directly into the Mediterranean Sea. That's definitely a must / bucket list.
5. Insano, Brazil: This water slide can be summed up in one word: monster. Measuring 135 ft. and traveling at a speed of 35 miles per hour, Insano hold s the record to the tallest water slide in the world. Would you dare to try it?
6. Giant Slide, China: Found in Chimelong Waterpark, the Giant Slide shoots the family raft up a structure for a thrilling ride. I guess the idea here is that the more people the more courage? We would like to give this one a try, the more the merrier.
7. Master Blaster Water Coasters, Dubai: Probably an Adrenaline junkies' dream come to life, a water slide roller coaster! This looks extremely intense, but equally fun. Located at Atlantis The Palms Resort in Dubai, these crazy slides take its riders through the park for a thrilling adventure.
8. Epic Plunge, Norwegian Cruise Line: This water slide is all the better for the simple fact that it's also on a cruise. What a fantastic way to stray away from the stereotypical type of "fun" associated with cruises, right?
9. Head-first Racer, China: Also located in Chimelong Waterpark, this 8-person water slide allows you to add in a little competition to the fun filled day.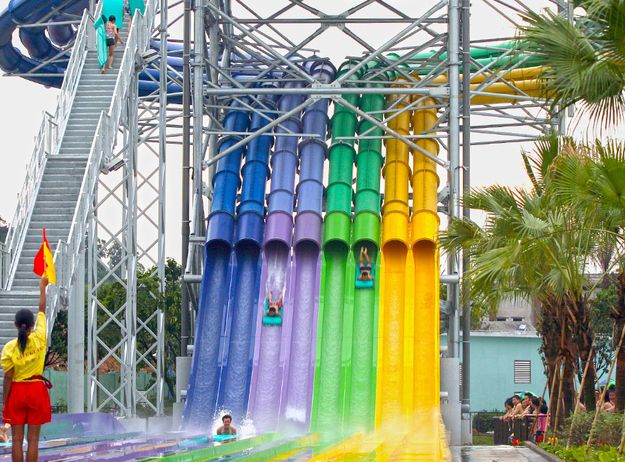 10. Bulletbowl, Beijing: Located in the world-famous Beijing National Aquatic Center (The Watercube), China's first indoor waterpark offers whimsical slides with a magical theme.