Kamakura is famous for its history. As an old capital city of Japan, it has a wealth of historic sites that would take days to explore. The central feature of Kamakura is Tsurugaoka Hachimangu. This sprawling shrine is the centrepiece of the city, and in fact, the city was built around it. It has a nearly one thousand year history, and is the most popular tourist sight in the city.
It's easily accessible from Kamakura station. Going out the east exit, you can walk straight out to the main road through the downtown area. This is known as Wakamiya Oji, and is actually part of the shrine complex. This street stretches from the beach up to the main shrine, and it has three torii gates along the way. As you walk out to this street, you'll notice two big lion-dog statues in front of a gate. This is the second gate. Follow the path down the centre of the street, known as dankazura, and you'll find yourself at the main gate.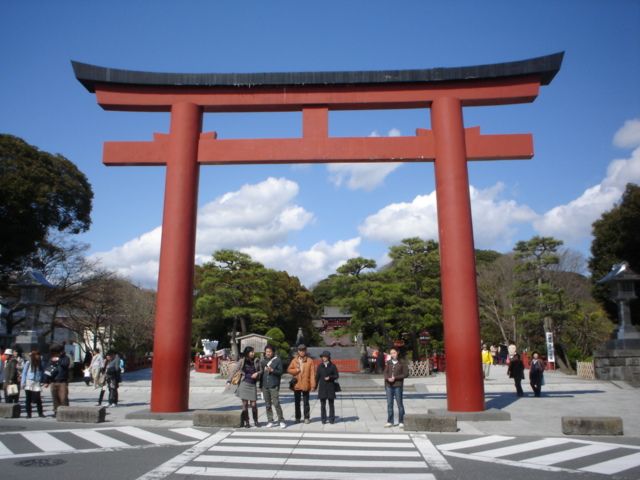 The shrine building is quite far from the main gate, but there's a lot to see on the grounds. There are two major ponds with many koi, turtles, and ducks. Beware of the pigeons and hawks, though. Near the entrance, there's an arched bridge that looks quite difficult to cross. That was reserved for the Shogun. If you'd like to take a rest, you can visit one of the three coffee shops. There are two museums on the grounds, including the Kamakura Museum of National Treasures and the Museum of Modern Art.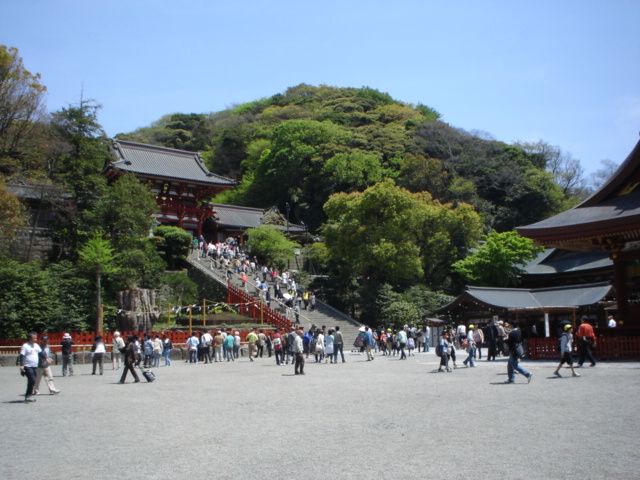 The main shrine building is situated at the top of a hill. You need to climb a set of stairs to get there. On the left side of the stairs was a one thousand year old ginkgo tree. In March 2010, a storm uprooted the tree. The roots were placed back in the ground and a portion of the trunk was left next to it as a memorial. However, this tree has continued to live, as it's grown new leaves. It's said that the man who assassinated the son of Minamoto no Yoritomo, the shogun, hid behind the tree. At the main building, you can watch a service, pray, and buy charms and other items.
The shrine is often quite busy. During the Kamakura Festival in April and the New Year's period from January 1st through the 4th, expect thousands of people. However, on a weekday, it can be a very pleasant and peaceful place to spend a couple hours relaxing.