If live in a diverse, metropolitan city, they surely you have at least heard people raving about Peruvian food. We decided to do some personal research and see what makes Peruvian delectable. To being with, Peruvian food has evolved from a mixture of local and immigrant culinary traditions. The most prominent foreign culinary traditions incorporated in contemporary peruvian dishes come from European, Asian, and African influences. Peru's location also makes it possible to incorporate a wide selection of distinct ingredients. Peru's beautiful coast yields plentiful supply of seafood, the Peruvian Amazon produces a variety of tropical fruits, and all the grains that grow in the Andes. Peru's rich and diverse use of ingredients has gained a substantial amount of acclamation. Here are a few of our favorite dishes!
Lomo Saltado (Peruvian Stir-fried Beef and Potatoes)
American aren't the only ones who can't enough of french fries! Lomo Saltado is a Peruvian-Chinese fusion dish that incorporates beef tenderloin yellow aji peppers and french fries.
Rocoto Relleno (Stuffed Red Pepper)
This dish needs a "caution" sign. The rocoto looks exactly the same as the sweet bell pepper but beware, it's not! The rocoto is very spicy. So, if you find yourself in a Peruvian grocery store and mistakenly pick up a rocoto thinking its a sweet bell pepper, you'll be in for a surprise. The rocoto pepper's fiery taste is stuffed with a medly of ingredients balancing the spicy taste. A traditional Rocoto Relleno is stuffed with raisins, chopped onions, chile peppers, ground beef, paprika, chopped hard boiled eggs, and crumbled queso fresco.
Special Tip: If you want to make this at home but you don't have access to rocoto peppers, you can definitely use red bell peppers as a substitute. To keep the peruvian flavors in the dish, you may want to add extra chile peppers.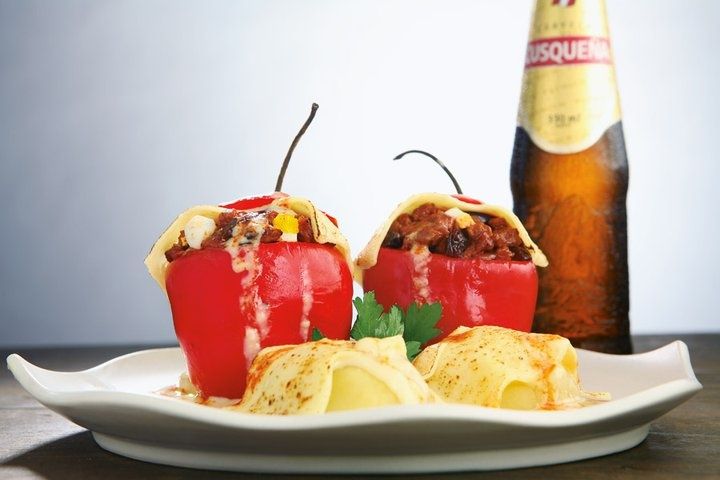 Classic Peruvian Ceviche
Ceviche is essential an assortment of sat water fish cooked in citrus juice (lime, lemon or orange). The recipe originated in Peru and has been tweaked all across Latin America. The Spanish even did their own take on the dish; rather than cooking the fish in citrus juice, they cook the fish in vinegar instead. The traditional peruvian recipe contains albacore, sole, snapper, halibut, a mixture of lemon, lime and orange juice, rocoto chile (from our recipe above), and onion and cilantro. This fresh dish a perfect meal for a hot groggy day.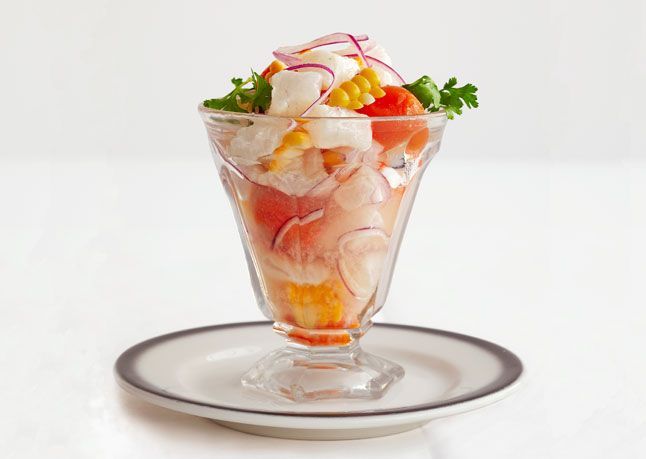 Aji de Gallina (Peruvian Spicy Creamed Chicken)
This dish os a Peruvian classic and features Peru's very own aji yellow peppers topped with a rich creamy sauce that incorporates walnuts. The dish is usually topped over rice and potatoes. For an authentic taste, the chicken should first be placed in a pot and then cooked for only 15 minute- leave the chicken on the rare side.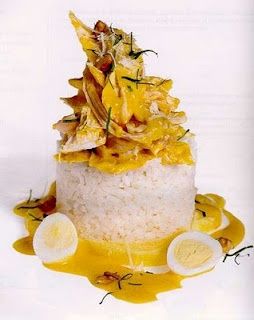 Arroz Tapado Con Carne (Covered Ground Beef and Rice)
For any Americans reading this blog, this is South America's version of the sloppy joe. It's a fun, quick dish, usually adored by little kids. Traditional ingredients include ground beef, yellow chile peppers, diced tomatoes, raisins, chicken broth, and optional hard boiled eggs.