After about a three-hour stunningly beautiful ride from Sydney, arriving to the Wolgan Valley is like stepping back in time… and a world away from the sights and sounds of the city.
After about a three-hour stunningly beautiful ride from Sydney, arriving to the Wolgan Valley is like stepping back in time… and a world away from the sights and sounds of the city. Bordered by two national parks, Wolgan Valley is a private conservation and wildlife reserve; creating a beautiful destination for that ultimate relaxation getaway your body and mind deserve on occasion. This area is sheltered from the rest of the world by the rugged landscape and forests, while the eucalyptus oil in the air gives the entire area a beautiful blue-green mist that many say can breath life back into your tired body, giving you a renewed sense of self. For me, a little time in this beautiful environment with air this fresh and clean sounded heavenly.
Take a moment to just listen to the sound of complete tranquility with nothing but nature's very own playground as far as the eye can see. Meadows extend from the foot of the sandstone cliffs towering above; providing a wonderland to both the nature lover and the city folks simply looking for a way to reconnect with themselves and look for their very own Blue Mountain adventure. Of course, for those history buffs out there, the local Aboriginal people have more than a few stories to share when it comes to the colonial settlers who have been on their land for the past two hundred years.
From the refreshing waters of the Wolgan River cutting through the area to the quaint eateries and antique stores scattered throughout the Blue Mountain townships, this area means something different for everyone who visits. Personally, the vast beauty provides a unique connection to nature, and the ability to hike and practice yoga in an environment such as this is simply a surreal experience.
At the Eastern end of the Valley, we arrive to a private resort that provides the secluded luxuries that perfectly compliments the raw beauty of the Wolgan Valley area. Emirates Wolgan Valley Resort & Spa contains all of the modern amenities and services we desire, while also being an incredibly environmentally responsible destination that is actually built around a fully restored homestead and is nestled among its own private conservation and nature reserve. Who says you can't enjoy communing with nature while enjoying all the pleasures that come with staying at a luxury resort?
The Wolgan Suite is just the proof I needed, as this impressive stand-alone lodge just screams rustic luxury from the moment you open the front door. Beautifully landscaped gardens lead you to the large verandah that wraps around your own personal lodge. Inside are three bedrooms and a very generous living and dining area, but nothing compares to the out-of-this-world private pool with scenery that takes your breath away. Following a swim, it's time to discover what other amenities and services this resort offers now that the standard has been set so high with this amazing suite.
The chefs provide you with a true Blue Mountain farm-to-table experience, which in my world, is fantastic. The produce that doesn't come directly from their own kitchen garden is from local boutique farmers and private growers. Ormiston free-range pork, Mandagery Creek Venison, Oberon line trout and a great selection of delicious local cheeses are a few of the chef's specialties. Of course you can dine in the lounge and dining rooms, but the staff also specializes in preparing private dining experiences either in your suite, or around the property's many hidden locations. The private resort way of life is felt while lounging at the community pool, grabbing a workout at the well-equipped gym with floor to ceiling windows overlooking spectacular scenery and finding a game at the outdoor tennis courts. Regardless of where you go around the resort, the awe-inspiring scenery is present in all its glory.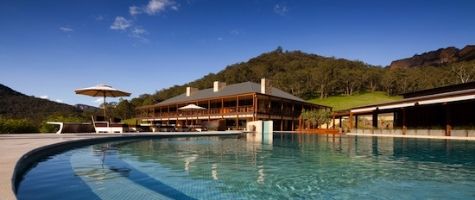 The spa provides an elegant retreat with treatment rooms, each with their own changing area and private bathroom featuring a shower and a Japanese-style soaking tub to complete the indulgent experience. Creating a cozy environment, a massive stone fireplace roars in the relaxation room during the winter months, while huge doors open to invite the outdoors in during the summer months. I personally enjoy the boutique environment found in resorts such as this one, but often find that the amount of services are limited. However, this is not the case here, as I feel the need to extend the vacation just to be able to take advantage of all the services that peak my interest.
I'm a big fan of spa packages to give your entire body a taste of what the spa has to offer. Then, in the remaining days, choose individual treatments that are still of interest. In this case, the Wolgan Signature Experience was a perfect solution that began with the Himalayan salt exfoliation, before continuing with a sensory experience designed to influence your mind, body and spirit using ancient Australian healing stones, crystals and plant essences. Feeling refreshed, I know that my time here with Emirates Wolgan Valley will not only be a spiritual experience, so to speak, but also not nearly long enough to full take advantage all that this area of the world has to offer the weary traveler.
Subscribe to the latest edition now by clicking here.

If you would like to comment on this story or anything else you have seen on World Travel Magazine, head over to our Facebook page or message us on Twitter.
And if you liked this story, subscribe to our bi-monthly World Travel Magazine, a handpicked selection of editorial features and stories from Global Destinations, Inspire Me, Insider, Style File, Wellness & Travel, City Travel, Suite Life, At Leisure, Short Breaks and much more.