There are times that we all just need to have a few days away from the hectic day-to-day lifestyle we all lead, free from the stress of work and busy schedules we maintain.
There are times that we all just need to have a few days away from the hectic day-to-day lifestyle we all lead, free from the stress of work and busy schedules we maintain. Just west of Sydney, only a few hours by train or approximately 90-minutes by car, an amazing spa oasis is often just what the body and mind require. As much as I love extensive spa treatments, being this close to nature and in this type of location is a personal favorite. These are truly unique properties; complete with fascinating histories, luxurious services, stylish amenities and a professional staff to make it all seem absolutely effortless from start to finish. Welcome to Lilianfels Resort and Spa and her sister property, literally next door, Echoes Boutique Hotel & Restaurant.
Arriving to these very exclusive properties, you feel like you're arriving to a private retreat, settled on the mountainside, overlooking the Blue Mountains National Park in NSW, Australia; home to some of the most spectacular scenery you'll ever experience. Perched at the very edge of Jamison Valley at Echo Point, the magnificent beauty simply accentuates the posh surroundings of these two properties. I immediately envision myself settled into one of the poolside chairs where I can enjoy a glass of Australian Shiraz and sit back and appreciate these views.
Echoes Boutique Hotel & Restaurant
Where Echoes Boutique Hotel now sits was the original homestead for Florence Young while she was not traveling as a missionary, before it eventually became the retreat for the Australian Christian nurses movement from the 40's – mid 80's. The property had completely deteriorated and become a fire hazard by that time, so it was demolished in the late 80's and then sold at auction. In 1990, architect Peter Doreen built the retreat for the Australian writer, Thomas Keneally to use when entertaining his television colleagues. Over the years, it evolved from being a B&B getaway to a luxury boutique hotel with one of the most talked about restaurants in the area.
With only 14 rooms, Echoes is the quintessential boutique hotel setting. A bold and modern design combines with the architectural heritage of the home to create a very warm environment. A hideaway worthy of the praise it receives, this is a wonderful retreat for the soul. All the rooms are very comfortable, but the corner view suites are my personal favorite as they provide the panoramic views that will have you not wanting to leave the room. However, when you do drag yourself out of your room, the restaurant and bar provide a perfect escape. As you move around the hotel, the amazing views seem to follow you; leaving you fixed on the horizon while noticing the subtle changes and nature's beauty at its best. Fresh local produce and ingredients paired with boutique Australian wines and international spices make for cuisine fit for royalty at this award-winning restaurant overlooking Jamison Valley.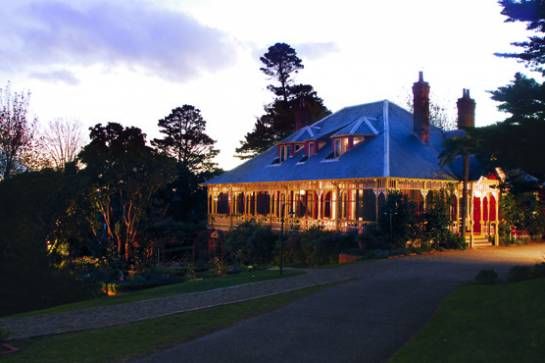 Lilianfels Resort & Spa
Formerly the homestead of Sir Frederick Darley, Lilianfels Resort and Spa also has a rich history while transforming itself into the remarkable destination it is today. After moving to Australia from Ireland in his early thirties, Frederick Darley became very active in the political system almost immediately, and was later honored to become the sixth Chief Justice of New South Wales. Overwhelmed with the beauty of this location, he was pleased to build his summer home here in 1889. Now a 5-star resort, Lilianfels has 85 rooms and suites, along with a host of activities and amenities available to guests while fortunate enough to be staying among the 2-acres of beautiful gardens while overlooking the magical scenery. While personally, I'm happy with the thought of sitting by the pool, or perhaps some poolside yoga, there are plenty of activities to keep you busy.
Beyond just the spectacular scenery and luxurious surroundings within the resort, the spa is what keeps people coming back to this property. A day at the Lilianfels spa is best described as a peaceful retreat, where the personalized services and tranquil environment provide the ultimate boutique hotel spa experience, essential to reaching total bliss. While they offer a variety of treatments, I would suggest you begin with the half-day Lilianfels Retreat package. You begin with a languid bath followed by a full body exfoliation and a nourishing wrap. Then comes the full body massage, releasing all of your stress and tension. Once you're feeling rejuvenated, your therapist will deliver a SOTHYS Seasonal Facial along with a luxurious scalp massage. Just when your body feels it has reached complete nirvana, the retreat ends with a restorative volcanic stone foot treatment, ensuring that you are relaxed from head to toe. Perfection!
Final Take
Once you visit, it is not surprising to learn of the long list of prestigious international awards that these properties have received over the years. Though you're relatively close to the action-packed city life of Sydney, you feel you're a world away, and in complete seclusion with nature's beauty literally as far as the eye can see while a guest at these properties.
Both Lilianfels and Echoes have very nice accommodations, I'm a fan of staying at Echoes, as it provides a very unique and intimate boutique hotel experience. There are many activities available in the area by day, or simply escape next door to Lilianfels to enjoy all the posh amenities and services they have to offer. Here, the indoor and outdoor pools combined with the gym and tennis courts make for an invigorating afternoon. The entire spa experience is my favorite pastime here, and truly world-class. Also, if you're an afternoon tea connoisseur like myself, Lilianfels has a wonderful afternoon tea in the lounge each day; where you enjoy the delectable treats and delicious tea among the comfortable sofas, fireplace and all-around gracious environment. Darleys Restaurant is a fine dining event that must be enjoyed at least once while you're their guest, and for the ultimate culinary exploration, be sure to take advantage of the 6-course meal with wine pairings. For a quick getaway from Sydney, or an ideal destination to begin discovering the Blue Mountains, the staff at Lilianfels and Echoes will make sure to provide you with the perfect combination of warm hospitality and decedent luxury. I think after a few days here, you'll understand why it's one of my favorites for a secluded getaway.
Subscribe to the latest edition now by clicking here.

If you would like to comment on this story or anything else you have seen on World Travel Magazine, head over to our Facebook page or message us on Twitter.
And if you liked this story, subscribe to our bi-monthly World Travel Magazine, a handpicked selection of editorial features and stories from Global Destinations, Inspire Me, Insider, Style File, Wellness & Travel, City Travel, Suite Life, At Leisure, Short Breaks and much more.