If the dangerous statistics of mainland Honduras put you off visiting, then perhaps the idyllic Bay Island of Roatan might make you change your mind.
If the dangerous statistics of mainland Honduras put you off visiting, then perhaps the idyllic Bay Island of Roatan might make you change your mind.
Located on the Caribbean coast, if palm trees, good food and stunning weather is what you want then you need not look any further. The pure white sandy beaches and bright turquoise sea are exactly what you would expect from a postcard picture and the sign of no clouds in the sky certainly leaves you in no doubt that you're in paradise.
The flora and fauna on the island are in abundance, with hundreds of crabs running across the roads (at their peril; I saw many squashed), geckos cheeping at you from doorframes, and mango and coconut trees left, right and centre. The sea life is incredible too: if you're in the area and have the chance, make sure you have a go at snorkelling. The delicate coral reefs are of many different colours and textures, and if you're willing to pay a little extra for a guide then they will show you the best places to go. In many places you can swim right up close to the corals (be careful not to touch or damage them) and you'll find yourself surrounded by hundreds of beautiful tropical fish of all sizes and species, including clown fish. The starfish park is also to be admired, as they are very large and are in huge numbers.
In terms of places to stay in Roatan, the growing tourist culture of the islands means that you won't be short of choice. The hotels in the area vary greatly so you shouldn't struggle regardless of budget – I stayed in a simple but very clean room which felt like a beach hut and you could hear the sea from your bed, which felt rather rustic. However there are a lot more up-market hotels too, so if you can afford to splash out five star luxury isn't too far away either.
The bars and restaurants in the area are also plentiful, allowing you to eat and drink in a different place every day of your trip. There are some fabulous breakfast bars selling fresh smoothies made of the island's fruit, like pineapple, and tasting local seafood is an absolute must. Grilled lemon fish is a personal recommendation, and I have also been told that the lobster and shrimp on offer is fantastic. You may find though that a lot of bars close a lot earlier than you would like them to – that's not a problem if you think ahead and grab a few beers to drink on the beach. The island's bars are usually more lively and stay open later when it's not the rainy season, but of course you take a risk of it being very busy.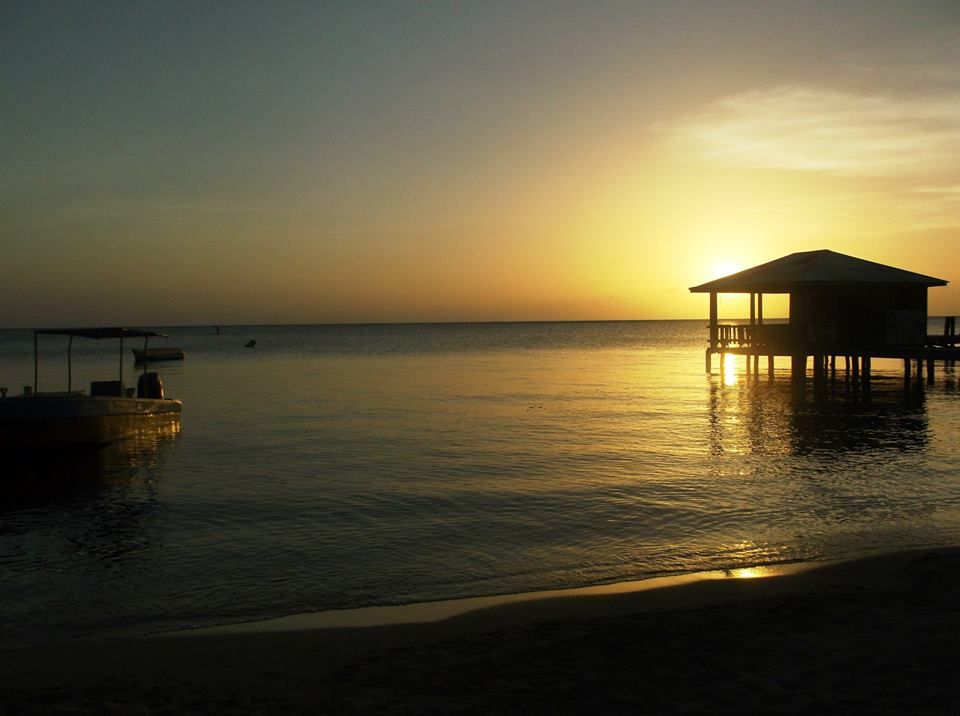 The great thing about the island of Roatan is that you can have whatever type of holiday you want. You can cruise around town and buy some souvenirs, and then grab a water taxi to West End Beach and spend the rest of the day chilling with a cocktail by the sea. Or you can grab your friends and hit the sea trampoline and the huge slide into the ocean. You could take a tour of the island's greatest sights and watch the sun go down, or if you're slightly more adventurous you could go snorkelling and swim with and feed the local dolphins! The opportunities are endless.
I know I left Roatan wishing I could have spent longer there, and I had totally and utterly fallen in love with it. I beg you, give Honduras a chance and I know that you will too.
Subscribe to the latest edition now by clicking here.

If you would like to comment on this story or anything else you have seen on World Travel Magazine, head over to our Facebook page or message us on Twitter.
And if you liked this story, subscribe to our bi-monthly World Travel Magazine, a handpicked selection of editorial features and stories from Global Destinations, Inspire Me, Insider, Style File, Wellness & Travel, City Travel, Suite Life, At Leisure, Short Breaks and much more.